EVOCAB FLEX FR UV 0H
Flexible, halogen-free conduits with UV-stabilisation
Comp. strength: 750 N/5cm, DN/OD 75, 110, 160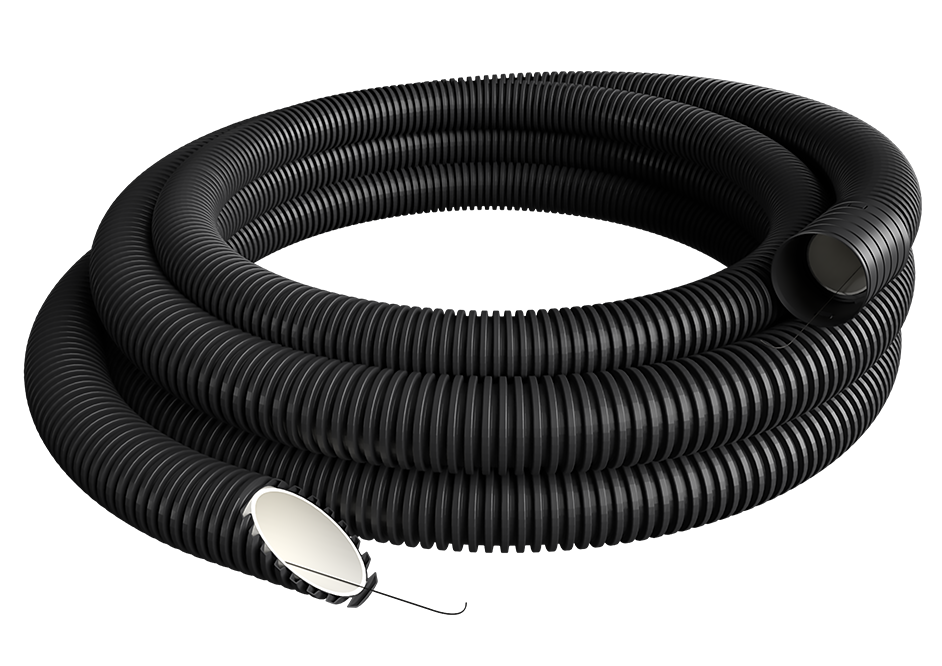 Corrugated double-wall pipes EVOCAB FLEX FR UV 0H for power cables and wire protection and insulation in direct UV exposure and inside the buildings.
Each coil is fixed with polypropylene band. Coils are positioned on pallets and stretchpacked for comfortable handling.
Available sizes: 75, 110, 160 [mm]
Available in rolls of 50 or 25 [m], depending on the diameter of the conduit
Advantages

Long-term durability and abrasion resistance
Pipes provide long-lasting, corrosion-free service
No need for servicing (repainting, removal of rust)
Quick and cheap installation
Self-extinguishing, designed for installation in public buildings

Recommended application

Mechanical protection and insulation of power cables and wires during the establishment of:

Safe connections and installation at electric power substations;
Cable connections between storeys;
Connections of buildings to electrical power networks;
Transition of overhead lines to underground cable networks;
Mechanical protection of power cables inside buildings.

Technical information

EVOCAB FLEX FR UV is produced in coil lengths of 25 and 50 metres with pre-installed pulling wire.

The product is additionally labelled with a yellow stripe and product identification information: "FR UV 0H, 750N EN 61386-22".

Long term UV resistance (more than 10 years)
Self-extinguishing, designed for installations in public buildings
Increased fire resistance
Low smoke emission
Made from flame retarding PP-based compound
Temperature resistance from -40 °C to +90 °C

Pipe dimensions
Dimensions
DN75
DN110
DN160
Outer Ø [mm]
75
110.1
160
Inner Ø [mm]
62.1
93.1
136.9
Length [m]
50
50
25
Bend radius min. [m]
0.23
0.23
0.28

R- Bend radius
D- Bend diameter

The EVOCAB protection pipes are manufactured in compliance with standards:

EN 61386-1:2018
EN 61386-22:2004+AC/A11:2011
EN 60754-1:2015
EN 60754-2:2015

Certification

EVOEL SMART FL, FM, FMs, FHs-UV, FLEX FR-UV Certificate ENG

Certificate of conformity (Bureau Veritas)

Download

Downloads
Code
DN/OD
Length [m]
Pack [m]
Truck load [m]
EVOCAB FR-UV 0H
2011507550003C01102
75
50
250
7800
2011509050003C01102
90
50
250
6600
2011511050003C01102
110
50
250
3900
2011516025003C01102
160
25
125
1800
Product pictures are provided for informative purposes only.
Proportions and colours of the original production may differ from the pictures.