EVOEL FM-0H-SMART
Medium resistance, flexible, halogen-free conduits
Comp. strength: 750 N/5cm, Classification: 33433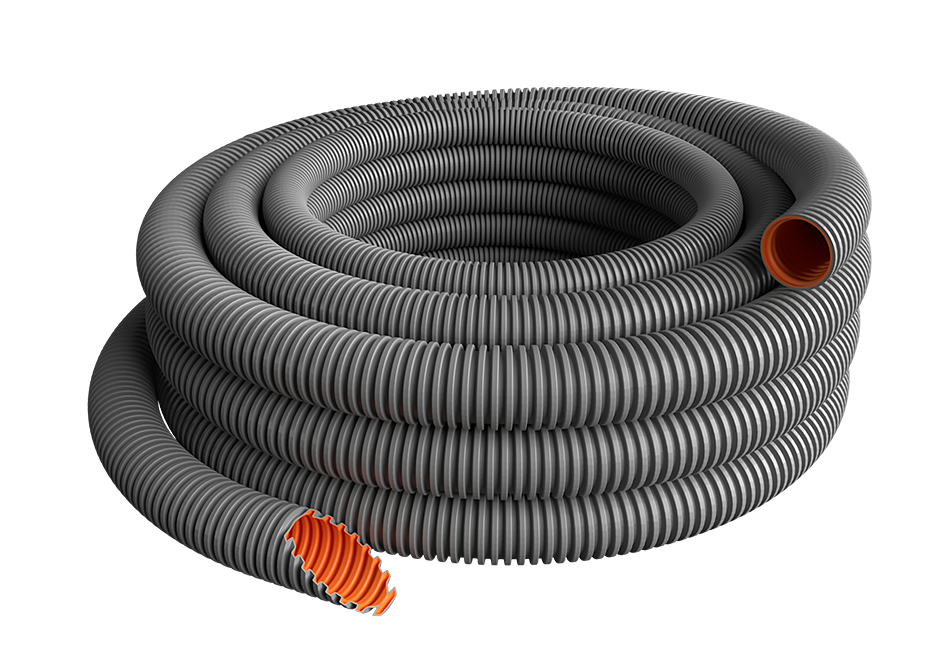 EVOEL FM-0H-SMART is flexible, reinforced, halogen-free electrical installation conduit made of a special grey (RAL 7037) plastic material, with an orange inner gliding layer.
The conduit features a medium mechanical resistance, a high thermal resistance, and a very high flexibility at constant cross-section parameters.
Available sizes: 16, 20, 25, 32, 40, 50 [mm]
Available in rolls of 100, 50 or 25 [m], depending on the diameter of the conduit
Advantages

Internal layer offers outstanding gliding properties
Extended cable pulling distances
Reduced installation time
Conduit is from halogen-free material

Recommended application

Due to the use of the halogen-free, thermally resistant material, the conduits are suitable for simple concealed installations as well as for installations in hollow walls, partitions, and suspended ceilings in public buildings: schools, kindergartens, hospitals, hotels, theatres, cinemas, museums, stadiums, arenas, shopping-centres, airports, railway terminals, and office buildings.

Installations in hollow walls
Concealed and exposed installations
Installations in wooden floors, dry concrete and keramzite
Power distribution rooms and substations
Private buildings
Industrial buildings
Public buildings
Multi-apartment buildings, more than 5 floors

Technical information

Material - a special plastic (halogen-free)
Compression strength- medium 750 N/5cm
Impact strength- medium
Temperature resistance from -25°C to +105°C
Non flame propagator, self-extinguishing
Corrosion-resistant.

Pipe dimensions
Dimensions
DN16
DN20
DN25
DN32
DN40
DN50
Outer Ø [mm]
16
20
25
32
40
50
Inner Ø [mm]
11.1
14.5
18.4
23.9
30.7
39.4
Bend radius ≥ [mm]
70
90
110
130
170
220

R- Bend radius
D- Bend diameter

The SMART conduits are manufactured in compliance with standards:

EN 61386-1:2018
EN 61386-22:2004+AC/A11:2011
EN 60754-1:2015
EN 60754-2:2015

Classification table

Certification

EVOEL SMART FL, FM, FMs, FHs-UV, FLEX FR-UV Certificate ENG

Certificate of conformity (Bureau Veritas)

Download

Downloads
Code
DN/OD
Length [m]
On pallet [m]
EVOEL FM-0H-SMART
10305016H1001C08002
16
100
2400
1030502050001C08002
20
50
1200
1030502550001C08002
25
50
1500
1030503250001C08002
32
50
800
1030504025001C08002
40
25
500
1030505025001C08002
50
25
400
* Available with a metal wire for pulling of cables.
Product pictures are provided for informative purposes only.
Proportions and colours of the original production may differ from the pictures.