GIGAPIPE PE
Gravity sewerage pipe, EN 13476-3 type B
SN4 or SN8 [kN/m²]*, DN/ID 300, 400, 500, 600, 800, 1000 mm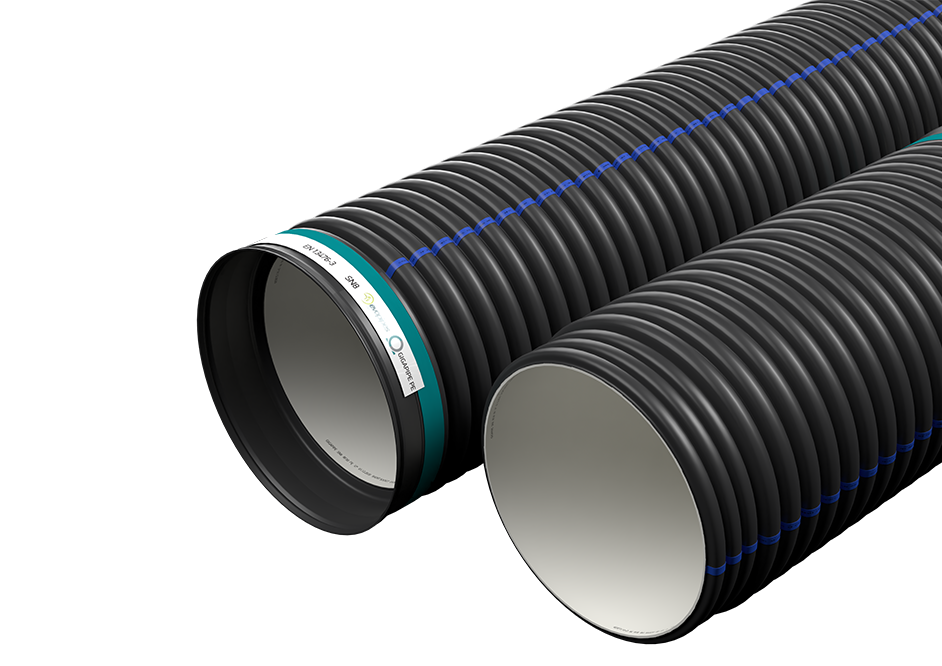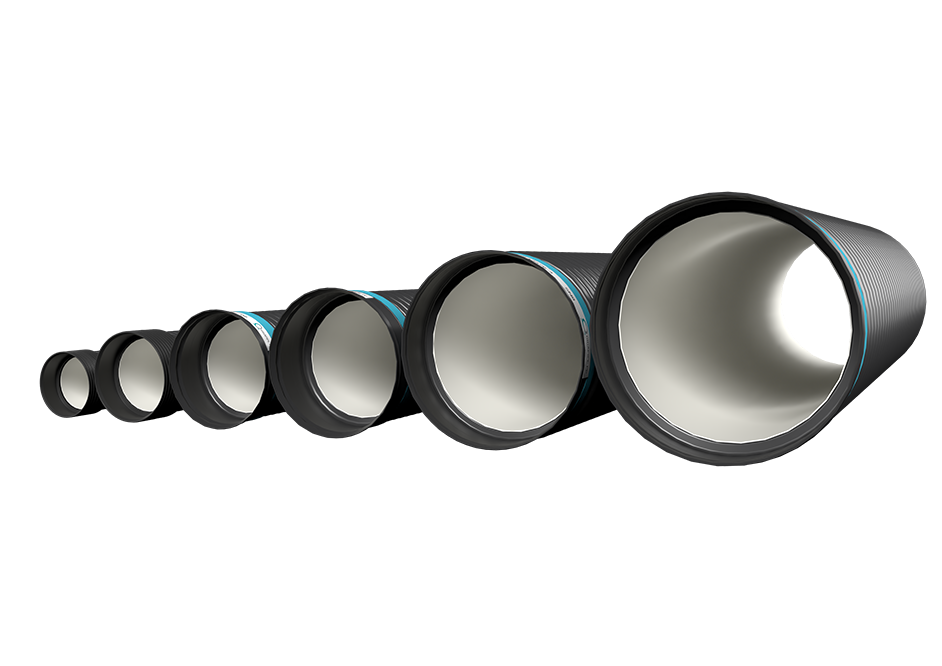 GIGAPIPE PE double-wall pipes with profiled (corrugated) external and smooth internal surface, type B, polyethylene (PE) pipes for the construction of road culverts, rain and wastewater infrastructure.
DN/ID 300, 400, 500, 600, 800, 1000 [mm]
Produced according to EN 13476-3
Ring stiffness: SN8* [kN/m²]
Standard pipe length - 6 [m] (other lengths on request) without sealing ring


*SN4 pipes are available on request
GIGAPIPE pipes have a long operational life, modest maintenance and installation costs, excellent hydraulic properties and high mechanical strength (resistance to dynamic and static as well as point-type stresses impacting during exploitation), friction and chemical degrading.
The design of the pipe consists of two layers with structured outer and smooth inner layer surfaces from PE material. The external side is corrugated and the profile properties guarantee high mechanical strength and impact resistance parameters. Smooth internal walls of the pipes ensure excellent hydraulic properties required for the pressure-free (natural gravity) systems.
Advantages

| | |
| --- | --- |
| | Good balance between product ring stiffness, ring flexibility and impact resistance |
| | The products can be installed in low temperatures until -10 °C |
| | Products are resistant to exposure to aggressive substances present in sewage and subsoil from pH2 (acidic medium) until pH12 (alkaline medium) |
| | The products are environment-friendly and recyclable after several decades in operation |
| | Long operational life - over 50 years |

Recommended application

GIGAPIPE pipes are suitable not only for all types (household, industrial and rainwater) of sewage systems but also, e.g., planned construction melioration systems for road, rail, port, dock, airport and other construction infrastructure, as well as for the construction of main pipeline network collectors for agricultural melioration systems. They are especially suited for constructing culverts for overcoming water barriers in road infrastructure.

Gravity lines of any kind
Wastewater networks, rainwater systems
Combined sewers
Drainage systems for premises
Special solutions for industry and communities
Open-construction exchange and renewal procedures
Extension of existing networks
Special constructions for the management of rain and stormwater and for industrial applications upon request

Technical information

Material: polyethylene (PE)
Produced according to EN 13476-3
Ring stiffness SN8 [kN/m²]*
Ring flexibility RF30
Impact resistance determined at -10

°

C (ice crystal)
Available sizes: DN/ID 300, 400, 500, 600, 800, 1000 [mm]
Standard pipe bar length - 6 [m] (other lengths on request) without sealing ring


*SN4 pipes are available on request

Pipe dimensions
Dimensions
DN300
DN400
DN500
DN600
DN800
DN1000
Outer Ø [mm]
339.0
451.8
565.7
678.9
906.3
1134.3
Inner Ø [mm]
298.3
395.8
495
594
793
992,5

GIGAPIPE pipes (DN/ID 500, 600, 800, 1000 mm) are equipped with SAFECONNEC connection type. SAFECONNEC is a unique type of DROSSBACH connection which optimises the interaction between the extension and the rubber sealing ring, further improving the positive characteristics of the flexible pipe system.

A high strength reinforcement belt for the ring is welded onto the outside of the extension at the exact point where the rubber sealing ring sits on the extension walls. The reinforcement belt guards against the separation (movement) of the joint even under extreme stress, thus ensuring that the pipe connections remain hermetic for over many years. The same process is used for all EVOPIPES individually adapted and readymade products made in the factory from the pipes (for example, components, shafts and other elements).

Rubber sealing ring usage areas:

As per special profile structure sealing rings can be applied to DN/ID 800 mm and DN/ID 1000 mm GIGAPIPE pipes in two different areas- high and low profile.

HP - Rubber sealing rings intended for the high profile area

LP - Rubber sealing rings intended for the low profile area

Certificates

Downloads
Calculators
Hydraulic performance of non pressure systems
Flow rate and speed calculations for sewer, rainwater and drainage systems (Colebrook White)
Calculate
Culvert hydraulic calculations
Throughput and flow rate calculations for GIGAPIPE culvert systems. The parameters of the culvert are determined by the Manning-Strikler formula, which includes losses from contact with the culvert walls.
Calculate
DN/ID [mm]
Truckload [m]
Coupler end

Code
GIGAPIPE PE SN8 length 8 [m]
500
128
no coupler
30500I0508044FT10B5
600
80
no coupler
30500I0608044FT10B5
800
48
+
30500I0808044FT10C5
1000
32
+
On request
GIGAPIPE PE SN8 length 6 [m]
300
432
+
30500I0306044FT10C5
400
288
+
30500I0406044FT10C5
500
192
+
30500I0506044FT10C5
600
120
+
30500I0606044FT10C5
800
72
+
30500I0806044FT10B5
1000
48
+
30500I1006044FT10C5
GIGAPIPE PE SN8 length 4.1 [m]
500
196.8
+
30500I0504144FT10C5
600
123
+
30500I0604144FT10C5
800
73.8
+
30500I0804148FT10C5
1000
49.2
+
30500I1004144FT10C5
GIGAPIPE sealing rings
Pipe DN/ID
Package [pcs]
Code
300
1
809025I30000000000
400
1
809025I40000000000
500
1
809025500000000096
600
1
809025600000000096
High profile area (HP)
800
1
809025800006800000
1000
1
809025T01006800000
Low profile area (LP)
800
1
809025800006700098
1000
1
809025T01006700B98
Product pictures are provided for informative purposes only.
Proportions and colours of the original production may differ from the pictures.