Lubricant EVOSLIDE
For pipe connection
Volume 1.0 l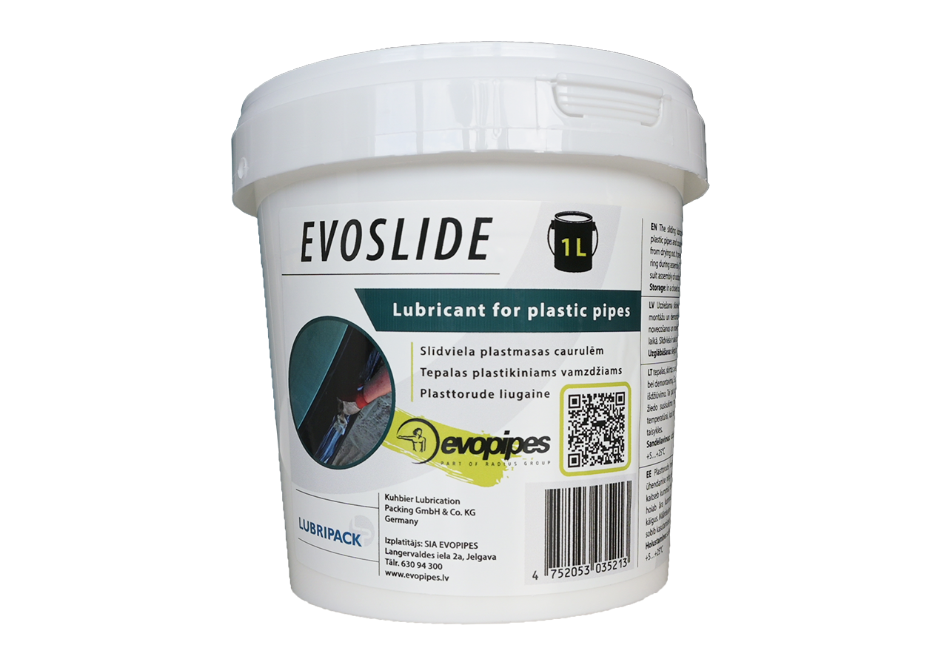 Lubricant EVOSLIDE is frost-resistant, silicon-based, paste-consistency, chemically neutral (pH ~7), creamy form in white color, odourless. Upon applying it on rubber sealing element, it makes the process of pipe coupling easier, prevents incorrect rubber sealing ring installation, as well as their damages in connection points. It does not lose the characteristics in damp environment and prevents rubber sealing ring from aging. Features good adhesion - sticking even in damp conditions.
Lubricant user's manual:
Remove dirt (sand, soil, mud etc.) from connection points. Spread the lubricant on cleaned surface evenly. It is recommended to use a brush to evenly spread it (to apply it to the surface).
Storage
Store the lubricant in a closed container, in a place protected from direct sunlight, +5 to + 25 °C.
| Volume [liters] | Package [pcs ] | Code |
| --- | --- | --- |
| 1 | 1 | 811071000520000000 |
Product pictures are provided for informative purposes only.
Proportions and colours of the original production may differ from the pictures.