FM-0H-SMART PRE-CABLED NYM / MMJ
Solid NYM Eca class PVC cable
Comp. strength: 750 N/5cm, Classification: 33433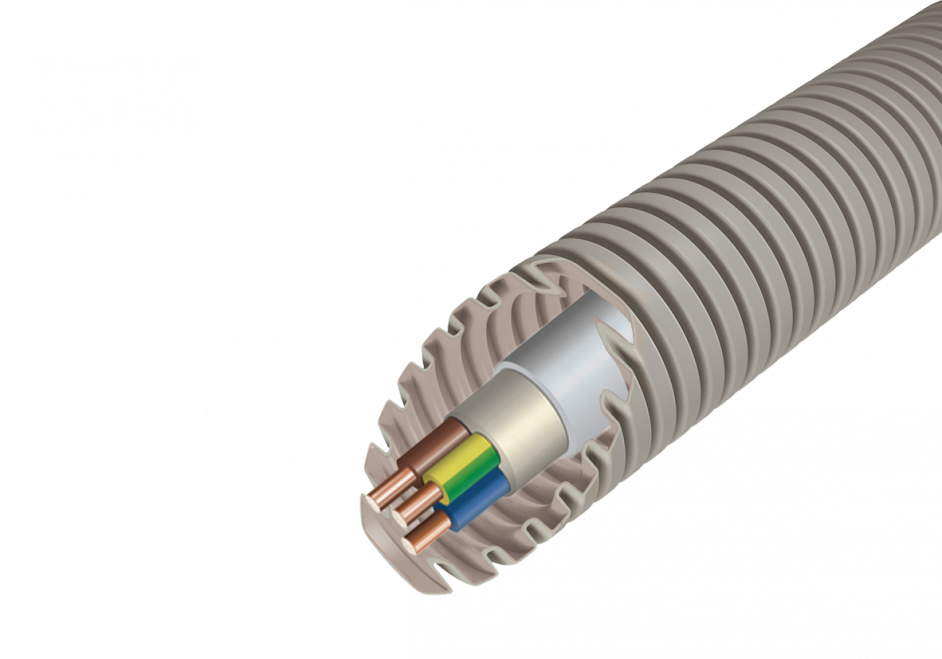 SMART PRE-CABELED are conduits with pre cabled power or communication cables. The electro installation works are much quicker and simpler because cables are already industrial preinstalled at the factory and do not need to be pulled on-site. This reduces the total costs of installation significantly.
Available sizes: 16 and 20 mm
Packed in coils of 100 m and 50 m, depending on the diameter of the conduit. On request other packing lengths and types are available (like drums or carton boxes).

Pipe solutions to increase your efficiency and make you more competitive in installation market!
Advantages

Time saving (no pulling of cables into conduits required)
Cost saving (less man-hours required for the work)
Halogen-free material for conduits

Recommended application

Due to the conduit halogen-free material, SMART PRE-CABLED are suitable for installations in public buildings: schools, kindergartens, hospitals, hotels, theatres, cinemas, museums, stadiums, arenas, shopping-centres, airports, railway terminals, office buildings. Due to the fire-safety requirements for protection against smoke, halogen-free conduits are also recommended for use in multi-apartment buildings.

All indoor aplications with medium load
Installation on plastering
In floors
In dry concrete
In keramzite layers

Technical information

Conduit specifications:

Material- a special plastic (halogen-free)
Compression strength- medium 750 [N/5cm]
Impact strength- medium
Temperature resistance from -25°C to +105°C
Non flame propagator, self-extinguishing
Corrosion-resistant.

Pipe dimensions
Dimensions
DN 16
DN 20
Outer Ø [mm]
16
20
Inner Ø [mm]
11.1
14.5
Bend radius ≥ [mm]
70
90

R- Bend radius
D- Bend diameter

Cable specifications:

Cable CPR classification (reaction to fire)

Aca

B1ca

B2ca

Cca

Dca

Eca

Fca

No reaction
Very low reaction
Non flame propagator
Non fire propagator
Very low heat emission
Low reaction
Non flame propagator
Non fire propagator
Low heat emission
Reduced reaction
Non flame propagator
Non fire propagator
Reduced heat emission
Improved reaction
Non flame propagator
Improved heat emission
Basic reaction
Non flame propagator
Undetermined

The SMART conduits are manufactured in compliance with standards:

EN 61386-22
EN60754-1:2015
EN60754-2:2015
EN 61034-2
EN 60332-1-2
EN 60332-1-3

Cable datasheet

Downloads
Kods
DN/OD
Kabeļi/dzīslas [mm²]
Garums [m]
Iepakojums¹ [m]
Monolīts kabelis² NKT NYM / MMJ CPR klase Eca
10405016H1001C09RE2
16
3G 1,5
100
2400
10405020H1001C09RI2
20
3G 2,5
100
1200
1151202010CS515DHFG
20
5G 1,5
100
1200
1151202010CS525DHFG
20
5G 2,5
100
1200
iepakojums¹ - citi iepakojuma veidi un cauruļu garumi pieejami pēc pieprasījuma
monolīts kabelis² - caurules ar iestrādātiem monolītiem PVC kabeļiem (citi kabeļu tipi pieejami uz pieprasījuma)
Produktu attēliem ir informatīvs raksturs.
To lielums un krāsa var atšķirtiem no attēlotajiem.